It's only been 5 days since Warlords of Draenor released, but with all of the craziness, it feels like I've been doing this for longer. Server issues/crashes/bugs/insanity/sleeplessness aside, I've enjoyed the expansion so far–how about you?
Leveling
Around 4pm on Thursday, the game just quit for me. I got stuck in every way possible, from the flying-in-mid-air-over-the-garrison to the 90% loading screen. At 9:30, I just gave up.
The next day was better, only 2 hours of 90%-loading-bar time, and I ended up hitting 100 at 3am Saturday morning.
Quests/Story. Holy crap, guys. I did the full story line in every zone, and I was not disappointed. SMV was a little distracting with its million side quests and Garrison activities, Gorgrond was on the shortish side, but Talador–favorite leveling zone by far. That cinematic at the end was amazing; I've watched it three times since level capping.
Spires of Arak was nifty, but Nagrand got kind of grindy for me. Could have had something to do with being 2am and being on the edge of delusion and desperation to hit 100. The Throne of the Elements quests, though; and the final story quest with the cinematic were the perfect way to level cap.
Killing Crap. Most of it was a joke, honestly; I went in with almost full Mythic Warforged and Starfalled a lot. I was teamed up with two mages for SMV and a monk for Talador. Might be another reason Nagrand felt grindy–it was the first time I had to work for some of those kills.
Treasures/Rares/Objectives. I didn't go hunting for these most of the time. If they popped up on the map (TomTom/Handynotes ftw), I'd go grab them, but otherwise I just stuck to my quests. I also didn't touch dungeons until 100, as most of the dungeons don't have quests and the XP you get from completing them doesn't compare to what you get from doing pretty much anything else.
Gearing
For anyone who's into raiding, hitting the level cap is like opening up an entirely new game, and it's all about gearing. I have to say, I've been pretty lucky so far. I'm at 631 equipped ilvl, a good start for sure, even if I did just transmog over the new items. What? They didn't match!
Heroics. I've mostly been doing heroics with guildies and friends, but I've pugged a few. With guildies, it's usually easy peasy. With PuGs, there's often a wipe or two along the way, but I've not yet failed to complete a dungeon I started due to a bad group. Of course, as one of my friends pointed out, as more players get to 100 and venture into heroics, PuGs will become more hit-or-miss because it will be drawing from a much larger cross-section of players than it currently is.
Running with guildies is better anyway, duh.
Missions/Professions. The only item I can currently make is the leather engineering helm, but I'm waiting. A guildy pointed out a couple of days ago that with Molten Core dropping 640 helms, using my mats to make the helm might be a waste.
As for mission gear? I haven't seen much yet. Most of my missions provide XP, gold, or garrison resources, and I'm perfectly okay with that.
AH/BMAH. Keep an eye on your AH. Yeah, the prices are probably pretty high at the moment, but take note of the seller and send them a message. You'll occasionally find someone willing to barter. That's how I got my 100k 665 ilvl neck for 50k. Thanks again, friend.
BMAH's so hit or miss and usually way beyond my price range. But if you're swimming in gold, you never know what you can get there. Just ask my GM; he's the big guy who stands on buildings.
#TLBCFarewellPandaria
Last week I started a giveaway thanks to Ask Mr. Robot: one-month free premium access to AMR. I asked you guys to show me your favorite place in Pandaria and tag it with #tlbcfarewell Pandaria. Here are the winners!
From Katherinn(e) [@wowinthedetails]: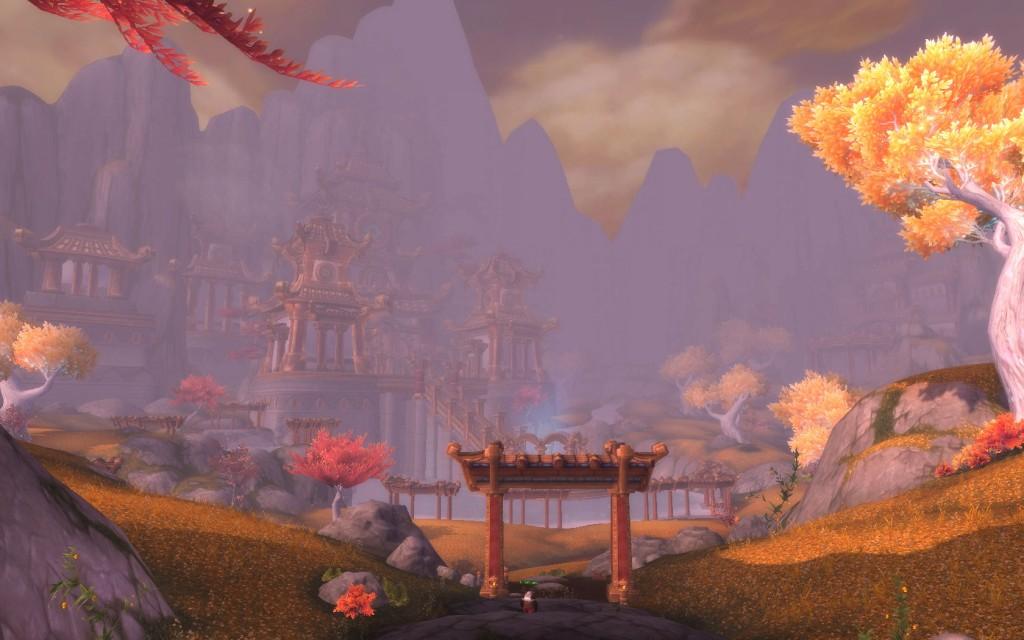 From Syrco Owl [@Syrcorax]:
From Stormie [@Summerstormsz]:
From Anna [@NotAnna]:
Congrats and thanks for sharing your favorite places with us! I'll be sending you all a DM with your AMR key today!